OmegaDesk
Demands for safety, environment, and efficiency in plant operation are showing a tendency to increase more and more. To meet these demands, system improvement causing no harm done on an operating plant is earnestly required. If your plant has a problem which interrupts the operation and you need solutions in order to increase process efficiency, here is good news for you.
As we put the OmegaLand on the market, we opened our Omega Engineering Support Desk, OmegaDesk.
The OmegaDesk is ready to help you and give its technical advice to solve your problems by their dynamic simulation technology.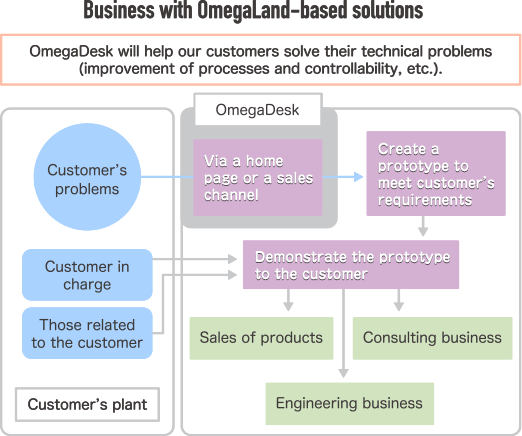 ---
Solutions by OmegaDesk
As for the improvement of production system, facilities, equipment, production methods, controllability, or operability can be considered as objects of the requirements. You might have found that discussion over the table is not good enough to solve all the problems. From the point of safety, probably you do not want to carry out a process of try-and-error on the operating plant. Some of you may be thinking that configuring simulation environments is too difficult.
If your problem is related to any of the followings, please contact the OmegaDesk.
Verification of process stability
Examination of the control system
Examination of a safety valve
Preparation of operating procedures
Volumetric calculation of equipment
Examination before plant enhancement
Optimization solutions
After having received your enquiry, our OmegaDesk will take the following steps.
Specifies the problems from your explanation.
Verifies the situations.
Replies if Omega Simulation is in a position to handle your problems.
If you agree, the following steps will be taken.
Preparation of a prototype of a simulation model.
Introducing results, a proposal will be demonstrated.
For more information, please contact the sales department.